Description
The IC-90 Internal Cabin Camera is a modular cabin camera that can be added to the existing IGO CAM 75/75R/90/90R Smart Dash Cam. The Internal Cabin camera allows you to record the inside of the vehicle and ideal for Uber and Taxi Drivers.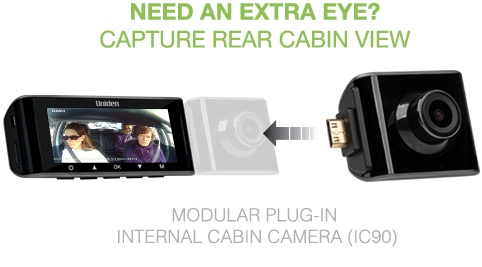 How is the dashcam powered?
Our dashcam is charged by the DC power adapter. All dashcams are powered through the vehicle's cigarette lighter socket.
Where will the recordings or photos be saved?
The data will be saved onto an SD card (not included).
Does the dashcam come with a SD Card?
The memory card does not come with the device. It has to be purchased separately.
Does the GPS system also navigate when driving?
The GPS is for geo-tagging purposes only, so it is not for GPS Navigation system.
Does the dashcam have a built-in battery?
Yes. The dashcam is equipped with a built-in battery.
Is the dashcam able to record when the vehicle is parked?
The dashcam has parking mode feature and you will need to turn this feature on. It will start recording once the G-Sensor detected motion. Please check the owner's manual for more details.
Is it safe to hardwire the dashcam in my vehicle?
It is safe to hardwire the device to your car battery but we recommend getting a vehicle electrician to install for you.
Can I turn off the audio recording function?
Yes. Please go to the setting menu and turn the audio recording option off. Please refer to owner's manual for more information.
Do I need to manually turn on the dashcam each time I start the vehicle?
No, the dashcam will automatically turn on and start recording when the cigarette adaptor plug receives power.
How do I play the recorded video files?
We recommend using VLC media player to play the video files. If you wish to play the geo-tagged data, you will need to download the relevant GPS player from Uniden product page. The geo-tagged data will display on the GPS player.
Where is the geo-tagging information saved?
The geo-tagging information is saved in the SD card and usually, these files are hidden. You will need to enable 'view hidden file' in PC.
Can I connect an external hard drive to the dashcam?
No. All the dashcams are designed to save video recordings onto an SD card only.
What will happen when the SD card is full?
The recorded files are automatically saved to the SD card. When the SD card becomes full, the camera's loop recording function will automatically loop/recycle the oldest video recording and creates a new one from available space. If you want to ensure that a particular file does not erase, please refer the owner's manual for more information.