Description
Hint is a wireless earbud that designed with fabric covered canvas material. Enjoy Hint to make you a fashion icon!
Wth 70% more battery life, a more comfortable fit, improved volume, and enhanced audio thanks to a better ear gel design, you will enjoy longer talk time and our best sound ever. Easily pair it with your Android™ or iOS® device for the ultimate voice control.
Now get a better fit by choosing from re-designed ear gels in four sizes. Improved volume makes calls more audible, while CrystalTalk™ technology filters background noise and wind. And when you turn on pass-through audio, you can better hear the world around you.
You can get extra power just in the case. The upgraded charging case provides more power than ever. You can fully charge Moto Hint up to four times, giving you up to 17 hours of talk time, perfect for all-day use.
You can just pair Moto Hint with a device, and it's ready to go. It has a sensor that automatically turns on the earbud to take calls while it's in your ear. Take it out, and calls will be directed to your phone instead.
Moto Hint is compatible with any Bluetooth® enabled smartphone or tablet, giving you hands-free calling with up to 45 metres of roam range.
# All talk and standby times are approximate and depend on network configuration, signal strength and features selected.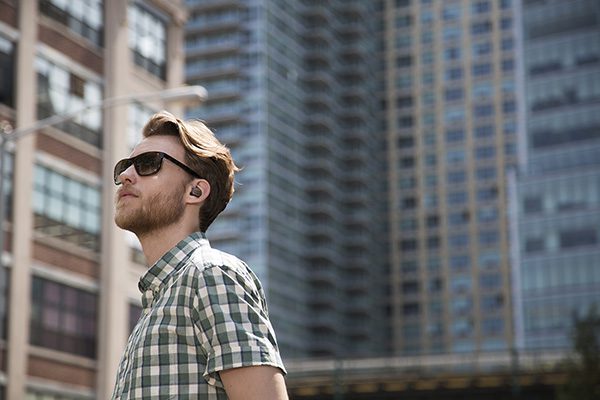 Get a better fit by choosing from four different sizes of ear gels.
Be heard clearly thanks to CrystalTalkâ"¢ noise and wind cancelling technology.
Wireless charging case lets you power up while on the go and listen for up to 17 hours. #
Automatically turn on/off and take full control of your calls from the earbud.
Get complete control of your phone just by using your voice. Simply speak to send a text, set a reminder, or play a song.
Pass-through audio lets you choose how much ambient noise you want to hear.
Roam up to 45 metres with call clarity every step of the way.
Easily switch between two devices with integrated multipoint technology.
Compatible with any Bluetooth® enabled smartphone or tablet.
Wireless headset
4 sizes ear gels included (XS,S,M,L)
USB charging cable
Charging case